【セミナー】Springer Nature Publishing Seminar: 学術出版のトレンドと未来
参加登録はこちらです/Online Registration * 2月4日(火)17:00までにお申し込みください/Please sign up by 17:00 Tuesday February 4.
* 定員になり次第締め切ります/If maximum capacity is reached, registration may be closed prior to the deadline.

日時/Date & time:
2020年2月5日(水)14:00~15:30(13:30開場)
Wednesday, February 5, 2020, 14:00-15:30 (doors open at 13:30)
会場/Venue: 吹田キャンパス 生命機能研究科生命システム棟2Fセミナー室(地図の12番)
Seminar Hall 2F BioSystems Building, Graduate School of Frontier Biosciences, Suita(No. 12 on the map)
対象/Open to: 本学の研究者、学生、職員等/Faculty, staff, and students of Osaka University
主催/Organized by:経営企画オフィス研究支援部門/Research Management and Administration Section, Office of Management and Planning
協力/Support by:生命機能研究科/Graduate School of Frontier Biosciencs
* 本イベントは、文部科学省研究大強化促進事業の一環で行います。
The proper communication of scientific results and discoveries has become more important than ever. The global output of scientific papers is growing exponentially, so
how to get noticed? Some journals are better promotors of your work than others, how to select the right journal? How to write a good article in English and how to get accepted?
Science funders expect to see the results of their funding, how to report back and comply with Open Access mandates? Institutions hire staff based on the quality of ideas and work
done by the researchers. How to prove your skills and that your work makes a difference?
These are examples of a set of questions which we would like to address in our seminar. The topics presented range from practical guidelines to trends in the global publishing environment which have an influence on what gets published and how. We hope that our information will help you become more successful in publishing your work and increase your understanding of the publishing landscape in general.

講師/Speakers:

Dr. Liesbeth Mol, Vice President, Journals, Mathematics, Physical & Applied Sciences, Springer Nature
Liesbeth Mol joined Kluwer Academic Publishing in 1997 as publishing editor mathematics, after obtaining a PhD in experimental physics from Utrecht University in the Netherlands. She returned to the physical sciences as publisher in 2001. After more than two decades in various roles in book and journal publishing, she is currently Vice President
Journals - Mathematics, Physical and Applied Sciences at Springer Nature.
Dr. Harry Blom, Vice President, Journals, Development, Policy & Strategy, Springer Nature
In 1992, I obtained my Master's degree in Astrophysics from Utrecht University and in 1997 I obtained a PhD in Astrophysics from Leiden University. After my post-doc work in Mexico I started my publishing career as an editor for astronomy at Kluwer Dordrecht in 1999. Then I moved to Springer New York in 2004 where I am still based. I am currently heading up the team for Publishing Development, Policy and Strategy, in the Journals Group of Springer Nature.

ポスター/Poster: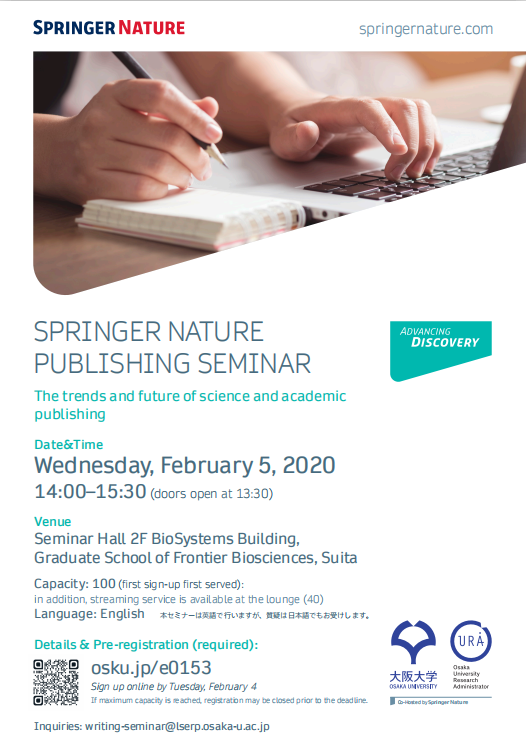 プログラム/Agenda: 14:00 - 14:05 Opening 14:05 - 14:50 How to get published in high impact journals Presented by Dr. Liesbeth Mol
• What do editors look for in a manuscript?
• What you can do to improve the manuscript after receiving reviewers' comments?
• How to choose a journal
14:50 - 15:15 Get published with Springer Nature Presented by Dr. Harry Blom
• Which general trends can influence your decision where to publish?
• How to decide whether to publish with Open Access or not?
• What does success look like after publishing your work?
15:15 - 15:30 Q&A *Content is subject to change without prior notice.
2021年7月16日(金) 更新
ページ担当者:Yao、大屋