URA and IR
University Research Administrators and Institutional Research at OU
We are a team of experienced and qualified research support/ institutional research professionals.
Primary Function
Research Development
We work closely with researchers and senior leaders at the university-wide and departmental level to identify promising research opportunities to develop new research centers and large-scale research projects (by identifying research areas, surveying research capabilities and the research fields of university personnel, organizing teams etc.).
Project Management
We provide support for research project management for the formation of project teams soon after a grant has been awarded and to help pass the review process such as the mid-term review stage (stage gate process), and support for other research project operations such as interim reports, completion reports, and outreach activities.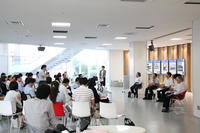 Professional Development
We support campus-wide professional development for faculty members and staff (researchers, administrative staff and research administrators). We also share information and expertise with departmental research administrators and strengthen campus-wide networks to enhance the University's research support system.
Articles in English